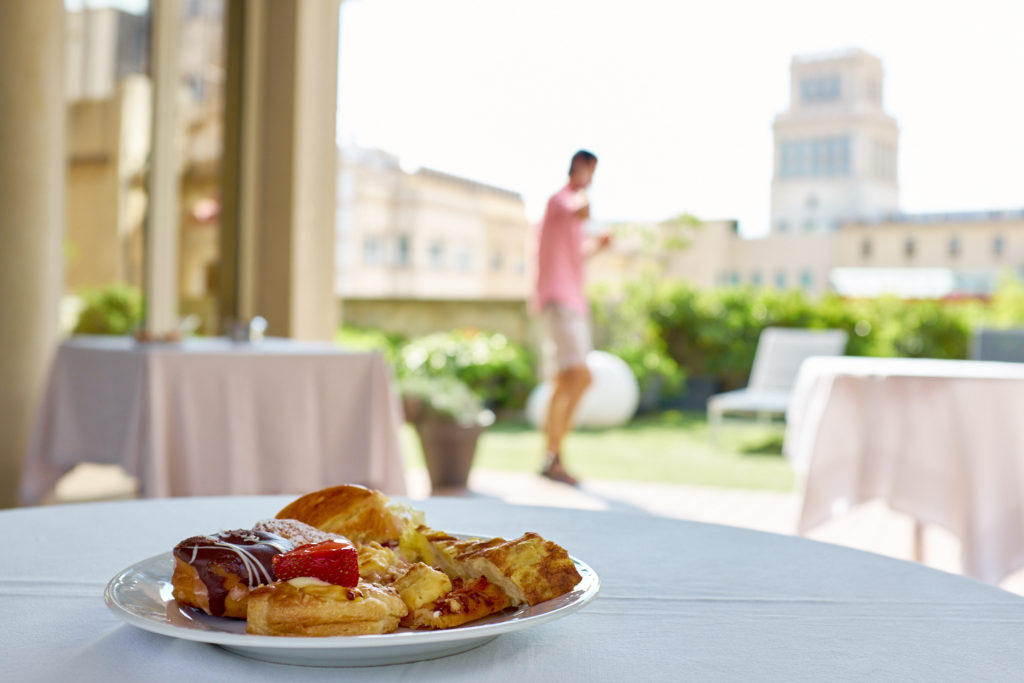 Breakfasts and other experiences at Gran Via Business & Meeting Center networking events
16 July, 2018
The commitment for areas diversity is one of the most reinforced pillars during the Gran Via Business & Meeting Center development, which seeks the customer's visit to Barcelona facilities not to be a simple work location, but a set of experiences that leads the user one step beyond in his or her activity development. That is the main goal for recent refurbishments such as the one carried at 'La Pérgola', which is located at the center's terrace. This area, besides being a resting area, becomes a central point once a month thanks to a service proposed by the center: Gran Via Business & Meeting Center breakfasts.
The first Friday of each month has become a significant date in the Gran Via BC users' agenda on the occasion of these exclusive meetings, where they can take a break from work with a full breakfast catering.
Served by a professional team, the different tastings, stemming from one of the best catering services in town, flow relentlessly amongst the participants in an event which is clearly focused to inter-company relationships, in order to encourage the center's customers networking.
"Everyone enjoys such a different activity, and that is a motivation to interact with other companies", highlights one of the center's users, Pippa Callaghan, about the general satisfaction of participants in these meetings organized by Gran Via BC.
It also seems to be the case this month of July, when the event was held in a stand-up format instead of the usual breakfast with tables and chairs, in order to increase interaction amongst the participants: "I was skeptical at first, but now I like it, because it's so different", adds Callaghan.
"The participants in our training sessions are always amazed with this center, mainly if compared with their usual workplaces", Callaghan says, who also thinks the terrace area, along with the rest of the offices and rooms, make a very good impression to participants, both domestic and from abroad.
But the terrace is not only for breakfasts. It also acts as an alternative space where you can take a break at any moment of the day, by mid-morning or by lunchtime. That, according to Callaghan, is a very important asset: "You can bring your own lunch, and you can be in the middle of the city not hearing its hustle, staying calm", she finds.
A multiuse area where every detail can be found makes Gran Via BC a workspaces reference in Barcelona thanks to their experiential areas that generate loyalty in customers such as Pippa Callaghan: "We have never considered moving to another business center", she concludes.
Might also be interested:
Share on